10 meetingrooms
800 people
880 people
(incentives)
298 accommodations

2 restaurants, 2 bar(s)
880 Place settings
open all year
Le Rouret
10 km from Vallon-Pont-d'Arc, the Rouret en Ardèche holiday village covers 72 hectares. Built in perfect harmony with the surrounding nature and with respect for architectural and horticultural traditions, the holiday village is set on terraces, preserving unobstructed views of the Cevennes mountain range. With many on-site leisure facilities, it is the ideal destination for your seminars and incentives.
At the Château (19th century mansion): - 8 air-conditioned rooms with windows, for up to 100 people - 1 air-conditioned auditorium (170 people including 20 people upstairs) - Audiovisual equipment hire: on request - Free Wi-Fi in all rooms (variable speed) Other suitable spaces: "L'Aven": multi-purpose covered structure (1296 m²) suitable for exhibitions, meetings (approx. 800 people), catering and evening events, located in the heart of the village. Several areas that can be used on site to erect marquees: - Château car park = 1,000 m² - Château Park = 800 m²
La Beaume
Berrias + Casteljau
Berrias or Casteljau
Beaulieu
Maisonneuve
Bessas or Brujas
Balazuc or Chastelas
Capacity of meeting rooms
Capacity of meeting rooms
Surfacein meter2
Size

in meter

Ceiling
in meters
Theater
School
U shape
La Beaume
220
18x9,60
9,60
180
-
-
Berrias + Casteljau
120
21,50x4,80
3,50
90
55
45
Berrias or Casteljau
45
9,25x4,80
3,50
35
30
20
Beaulieu
110
11,90x9,10
3,50
100
55
35
Maisonneuve
92
13x5,70
2,50
80
50
38
Bessas or Brujas
45
8,10x5,20
3,50
35
30
20
Balazuc or Chastelas
45
9,25x4,80
3,50
35
30
20
Move left
Move right
Objectives to achieve? Challenges to overcome? You can count on the responsiveness of our teams and partners, who have been developing unrivalled expertise in improving the way groups interact for 20 years. Set your objectives. Whether you're putting your teams' potential to the test or rewarding your employees, we'll advise you to give your projects meaning. Choose between incentives, teambuilding, sports challenges and more. As we offer a wide range of activities, we can combine work and leisure sessions... Hand over the reins. Rely on our teams who are ready to ensure your corporate events are perfectly coordinated for all your participants' enjoyment!
The 64 apartments and 234 houses in the "La Colline" district offer spacious accommodation with modern, refined décor. They are equipped with a bathroom with a heated towel rail, a separate WC, a TV, a terrace or balcony and Wi-Fi (speed varies).
Imagine a venue for each key moment of your event: - "La Colline" area: "Le Boissy d'Anglas" (80 covers and a terrace for 500 covers). - Parc Botanique du Château: picnic on the grass (1000 people) - "Bowling" bar (100 people) - "Le Castel" club (200 people), available for private hire - In the Aven area (1000 m2) A personalised welcome Included in the packages: Business breakfast buffet, lunch and dinner (starter, main course, dessert, wine at dinner, mineral water and coffee). To customise your event: a wide choice of themed buffets, cocktail receptions, gala dinners, open bar events and more. Cuisine favouring local ingredients and regional recipes, such as an Ardèche charcuterie tasting platter, "Chicken supreme stuffed with chestnut, mushroom coulis and vegetable confit" and "Blueberry clafouti".
On site: - 650 m2 water parks and swimming pools. - Mountain biking, archery, outdoor activity centre, horse riding centre, 4 tennis courts, multi-sports pitch, petanque, table tennis, botanical gardens, 10-lane bowling alley and billiards. Close to our local partners: - Whitewater sports on the Ardèche: canoeing, kayaking, canyoning and more - A la carte sporting challenges: orienteering race, caving, canyoning, via ferrata and more - Discover the region: Visit the Ardèche caves, authentic villages and more Unique: discover a 15 ha protected biodiversity nature reserve, created at the Domaine du Rouret in partnership with the nature associations Fiber Nature and LPO (French League for the Protection of Birds).
Address
Village Le Rouret en Ardèche
07120 Grospierre
France
GPS Coordinates
latitude : 44.38067700
longitude : 4.27687400
Routedescription
Route description

Paris (663 km) - Lyon (204 km) - Marseille (203 km)

From Paris:
- Take the A6 motorway to Lyon, then take the A7 and come off at the Montélimar Nord exit
- Head towards...

Paris (663 km) - Lyon (204 km) - Marseille (203 km)

From Paris:
- Take the A6 motorway to Lyon, then take the A7 and come off at the Montélimar Nord exit
- Head towards Aubenas, Le Teil, Villeneuve de Berg, Vogüé, Ruoms and Grospierres
- Cross Grospierres Gare, 4 km on the D111 and turn left
- Follow signs for Domaine du Rouret

From the south:
- Go as far as Nîmes, then take the N106 and exit at Alès
- Then take the D904 towards Aubenas via St Ambroix
- Finally, take the D111 to Grospierres
- Follow signs for Domaine du Rouret

Read more

Close

Public Transport

Montélimar train station Valence station

By plane

Marseille airport (2 hrs 10) Montpellier airport (2 hrs) Lyon airport (2 hrs 30)
You might be interested by: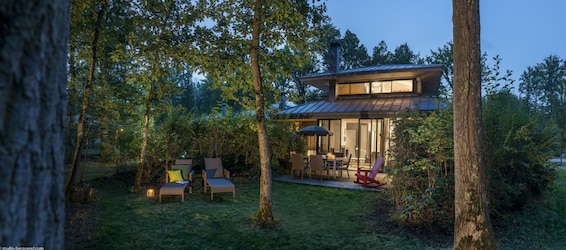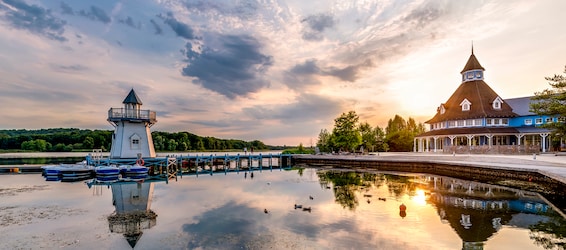 Provence-Alpes-Côte-d'Azur
>